Інтерв'ю Гюнтера Луца – 50-річчя Сігми
Інтерв'ю Гюнтера Луца – 50-річчя Сігми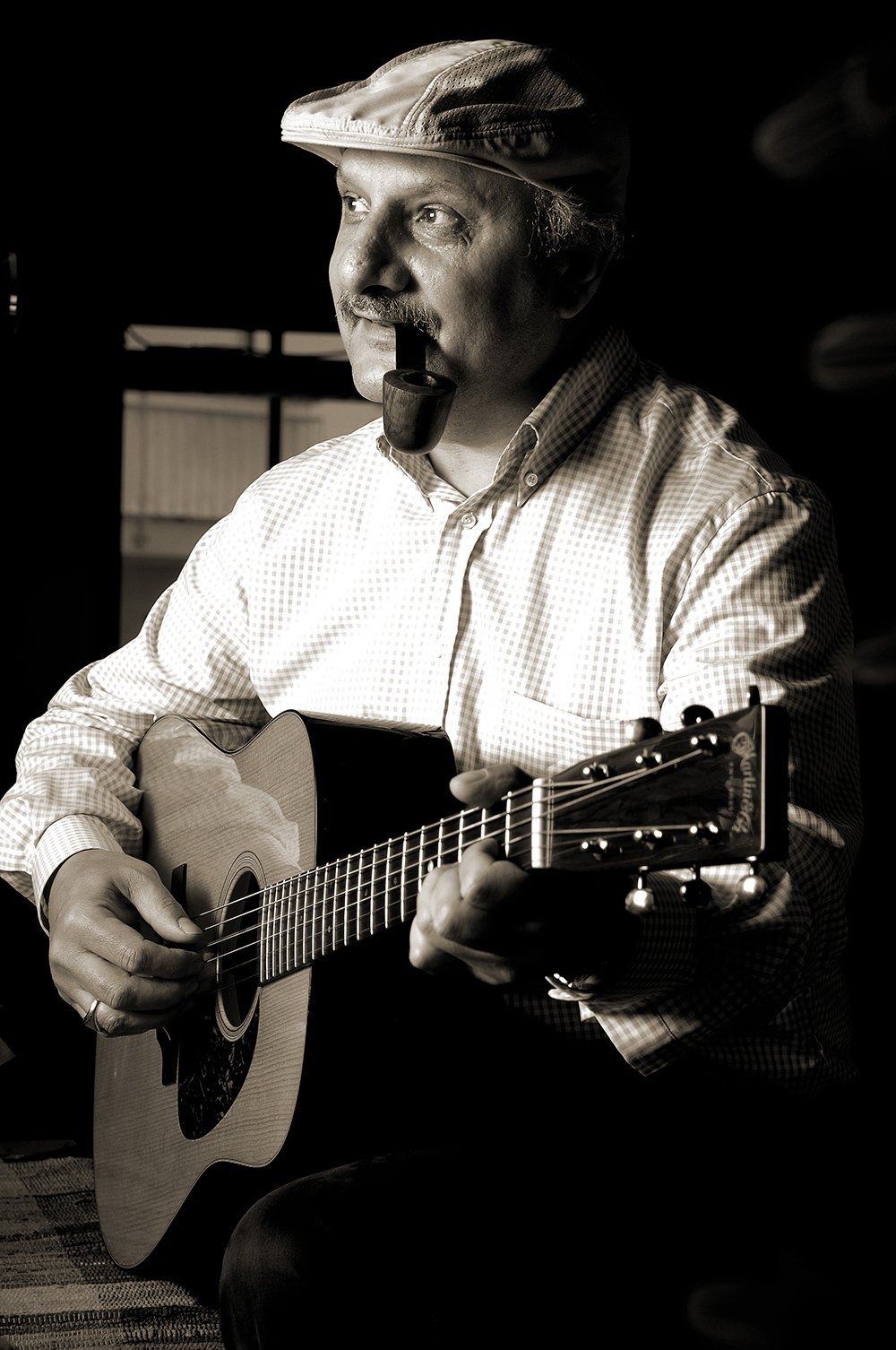 As of autumn 2011 Sigma guitars would once again be produced, this time in China. Just following the mastermind of A.M.I. based in Munich Günther Lutz acquiring naming rights from C.F. Martin.
A.M.I. is incidentally the German business partner of Martin Guitars.
Günther Lutz's concept has come to fruition. The interest in the name Sigma, which already had a positive connotation in the scene, was great from the start. Thanks to judicious model policy and a special focus on an optimized ratio of quality to price, the "rebirth" of Sigma Guitars was an astounding success. The German magazine "Acoustic Guitar" (German: AKUSTIK GITARRE) has agreed more than once over the years and has repeatedly checked the instruments thoroughly in test reports. The Sigma Catalog is now remarkably extensive and no longer limited to the Martin Universe; There is also a custom shop and signature models. The year 2020 stands for Günther Lutz and his team under the motto "50 Years Sigma".
Sigma Guitars was founded in 1970 by Martin in an attempt to counter the recent wave of strong Japanese competitors with their own line of value instruments. How did this first chapter of Sigma proceed from 1970 to 2007, when Martin reinstated Sigma?

Günther Lutz: It started in the 1960s when all of the Japanese manufacturers came onto the market with their more affordable instruments. At that time Martin decided to stay one step ahead of the competition and established a brand with Sigma under which detailed copies of their own instruments were to be made in Japan. The early Sigma guitars were built in Japan. However, these instruments were not delivered directly to the dealers, but first inspected and set up at Martin in the USA. It took a few years for the Japanese guitar makers to get the hang of things. The first models, for example, have a height-adjustable bridge, a very different head plate shape and even a zero fret – all things that Martin does not have.
It wasn't until the mid-1970s that there were Sigma guitars that visually parallel their corresponding Martin counterparts. Then the original Sigma logo, the Greek symbol ∑, was changed to the Script logo, which is very similar to its Martin equivalent. Manufacturing was later moved from Japan to Korea, and then again to Taiwan and Indonesia. In 2003 Martin stopped supplying the distributors with Sigmas and in 2007 stopped selling on the American market. This without a doubt had to do with the poor quality of the last run of instruments; it wasn't worth the hassle for Chris Martin anymore.
Do you have any personal experience with guitars from this time frame, especially with the esteemed Sigma models of the first 'Made in Japan' years?

Günther Lutz: I was still too young in the 1970s to really remember. First, I worked as a retailer and afterwards I also had sold Sigma in addition to Martin guitars. After I acquired the rights to Sigma, I snooped around and picked up some of the old models on eBay or from collectors. I even ended up with one of the Japanese Sigmas from way back when. And it's actually pretty nice, and noteworthy craftsmanship.
Give us a peek behind the scenes when you approached Martin Guitars for the rebirth of Sigma; Was it difficult to find an agreement so that the rights went to AMI / Munich?

Günther Lutz: I had been interested for a long time. A Martin employee asked Chris Martin on my behalf. It took a long time to make a decision, and I had to keep inquiring for well over a year before anyone budged. But then it went pretty quickly. At first, it was only concerning the rights for Germany, but within a very short time it was first extended to Europe and then worldwide. The USA has another manufacturer with rights to the name, and Martin kept the rights for themself in Japan.
What preparatory work is actually necessary to design a new guitar line from scratch, to plan production and to ensure quality?

Günther Lutz: First of all, it's not just about a guitar brand; Martin guitars and the old Sigma models already existed as something to live up to. I wanted to re-establish the brand with them and accordingly begin with the old models of the standard series. I then created the relevant specification lists and sent them to various manufacturers in China, who then built the first prototypes. I had preexisting contacts; I've fluctuated back and forth to Asia since 1987, visiting many guitar factories and helping them improve their process. After all, I have decades of experience as a guitar maker and of course as a dealer.
After I decided on a manufacturer, I worked out very detailed lists for 25 models, checked the samples on site and discussed the results. It was quite an extensive work for several months until everything was as it should be. In autumn 2011 we started production.
From your point of view was it an experiment at the time or were you almost certain that the new Sigmas would be positively by the guitarists? Did you take any surveys or were you basing things more on a gut feeling?

Günther Lutz: No, there were no market surveys, it was based more on instinct. However, I was always 100% certain that Sigma guitars would be well received, as long as the quality and price were right. Sigma in conjunction with Martin is an incredibly strong name. I also wanted to bring back the old standard models, now branded with the script logo. That was very important to me because it's reminiscent of the Martin logo itself. I wasn't allowed to use the addition "by C.F. Martin" of course. Logically speaking I also wasn't allowed to advertise with the name Martin. Not to mention we paid quite the licensing fee for the rights to that logo.
Since Sigma has returned to the market under the aegis of you and the AMI sales department, the instruments have been manufactured in China. How could one imagine the specific cooperation between you and the production facility, what information is shared here, are there frequent visits on site?

Günther Lutz: At first there were countless details that had to be discussed and that we wanted to have changed – after all, a guitar like this consists of about 350 steps! The changes were by no means optional, I insisted. The manufacturer then said that he had to get one or the other part or adapt the working procedures, and that would cost extra. And I said again and again to his astonishment: Ok, I want that, and I'll pay for it. These were details such as better strings, compensated bridge shim and saddle made of bone or the exact shape of the bridge. The total was a rather small amount, but it contrasted his other customers, who haggled for every cent. It was a huge effort and the manufacturer asked me if we could even sell the guitars. In the first year we sold twice as many as we had hoped. However, that was not enough, as further details came up. For example, I asked for a thinner paint job. This has also brought quality enormously forward.
In the meantime, we have become so accustomed to one another that a visit to the site is hardly necessary. Photos and emails are sufficient in most cases. After all, this manufacturer has built Sigmas before. I go there once or twice a year, but only to maintain personal contact and to discuss the basics.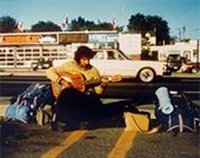 Günther Lutz in Toronto, Canada (1977)
In our previous test results, we could almost always attribute the Sigma instruments to high quality and an excellent price-performance ratio. Is this thanks to a strong correspondence with the manufacturing partner in China? Do Sigma manufacturing employees receive special training over there?
Günther Lutz: Of course, there's a little know-how involved. My knowledge flows into my specification lists, which are really very detailed and extend even to the quality and strength of the woods used in production. On top of that I'm very persistent – the requirements must be met exactly. Sometimes, for example, opinions about what a beautiful sunburst should look like are very different. I then send an appropriate instrument over with the requirement that it be done exactly the same way.
If you make the know-how available, you know from the get-go that it will also be applied in general production. As a result, the general quality standard of this company has increased, which has also been reflected in the volume of orders. The owners appreciate that too, and they ensure that only their best people build the sigma guitars and carry out the final inspection. And they also accept that certain details that are important to us are only made at Sigma.
A few specific questions about production: The wood used – will you select them and then deliver them to China for Sigma models, or does the manufacturing company decide?
Günther Lutz: No, the choice of wood is solely up to the manufacturer, because he has the appropriate contacts and suppliers. In addition, it would be far too expensive to choose wood here and then send it to China. I only indicate the quality level.
What role does quality control play and how is it carried out?

Günther Lutz: As I said, this is generally done on site in China, and that's where the best people from the company are in play. It is also very important to me that most of the instruments that we sell as sales in Germany are unpacked, viewed and set up. We have four very experienced people who fine-tune the guitars, two of whom are luthiers who can also do repairs. If something occurs to them that constantly needs addressed or repaired, we pass the information on to the manufacturer. Especially in the early years, we often had to change something because it wasn't quite up to standards yet.
How does Sigma implement sustainability under your leadership?

Günther Lutz: This is difficult with acoustic guitars because the musicians ultimately want to see a spruce top and mahogany or rosewood back and sides. Nevertheless, we will continue to venture away from using rosewood and use Tilia in its absence. This material mainly consists of basswood but, looks exactly like East Indian rosewood. We will also continue to use Micarta for the fretboard and bridge. It was well received; it looks like ebony and it is good for the sound. Especially with a pyramid bridge like the one we use in many small models; you can also see that Micarta is much more resilient.
Unfortunately, it's hard to avoid the aesthetic of exotic woods, even if the musical instrument industry only uses a small part of these woods. The vast majority go to the Asian furniture market. That is why the CITES regulations have been changed again, especially for musical instruments. In addition, however, there is still an export tax on rosewood guitars in China that is at least 25 percent. This is also a reason to temporarily avoid rosewood.
How do you manage to create a new collection in the range of acoustic guitars – where practically every conceivable model already exists – that actually triggers a noteworthy demand? It's more than just a question of price isn't it?

Günther Lutz: For me, the most important thing is quality. That combined with an attractive price ultimately makes the difference. I want to further develop Sigma as an independent brand and have more and more models in my range that are based on models from other manufacturers. The question is, how can you build a guitar cheaper without it sounding worse? It is always important to have good wood, good tuners and good strings – we also use the coated D'Addarios even for the most inexpensive instruments.
Now to the models themselves. At the beginning, the Sigma catalog recognized clear parallels to instruments from the Martin universe. Were there any problems and conflicts of interest with Martin? After all, you are also the Martin sales partner in Germany.
Günther Lutz: There were definitely people at Martin who were stunned by our success. In short, I've never heard a complaint from Martin. In addition, our sales of Martin guitars have also developed well over the past ten years. Out of plain respect there are certain Martin models that I would never copy, such as the Eric Clapton or the John Mayer model.
The Sigma catalog has grown massive- and you can see that it also contains guitar designs that originally came from the Gibson universe.

Günther Lutz: In the first few years, everything possible came onto the market under the Sigma label. Sigma hummingbirds and Doves are available as well as an ES-335 copy or even a Sigma-Rickenbacker bass! So, this is nothing new. It plays a role in my concept to build Sigma as an independent brand.
A custom shop is also part of the new world of Sigma-Guitars as well as limited special models. What's the story there?

Günther Lutz: As a former luthier myself, I always have more ideas for new models than one could ever offer. That's why I created the Custom Shop for the German market. Other Sigma distributors then picked up on that and ordered guitars according to their ideas. Here we met the manufacturer who had offered us to build individual models in relatively small numbers. There are now even signature models, for example for Peter Bursch.
What are the plans for the future of Sigma Guitars? What can guitarists expect in the time to come?

Günther Lutz: I'm not focused on planning complete series right now; the possibilities there are pretty much exhausted. I look at what's selling well each year and adjust the offer. For example, black guitars were very popular for a while; there is currently hardly any demand for them. I keep trying models out, because you often don't know how they'll be received. I won't make any electric guitars though – we'll stick to acoustics. Something that's actually in the works right now is to revise the concert guitars, because they are in particularly high demand in South America. I may also include a crossover model with a narrower neck and a thinner body.
Inquiry of the times: How do you think Sigma's business and overall guitar market will change due to the Corona crisis? Will it then go back to "business as usual"? Are chain retailers currently negatively affected at Sigma?

Günther Lutz: The factory was only closed for a week after the "Chinese New Year", so it's already well back into production. The manager assured me that deliveries can also be made. Of course, there is currently less demand for guitars, but I hope that things will even out again towards the end of the year.
Last question: does Martin regret having given up the rights to Sigma Guitars?

Günther Lutz: I can't answer such a question because I just don't know. But after Chris Martin decided to focus on Martin guitars, I don't think he regretted it. And if you look at how successfully Martin has developed over the past ten years, that was certainly the right decision.
Günther Lutz resumé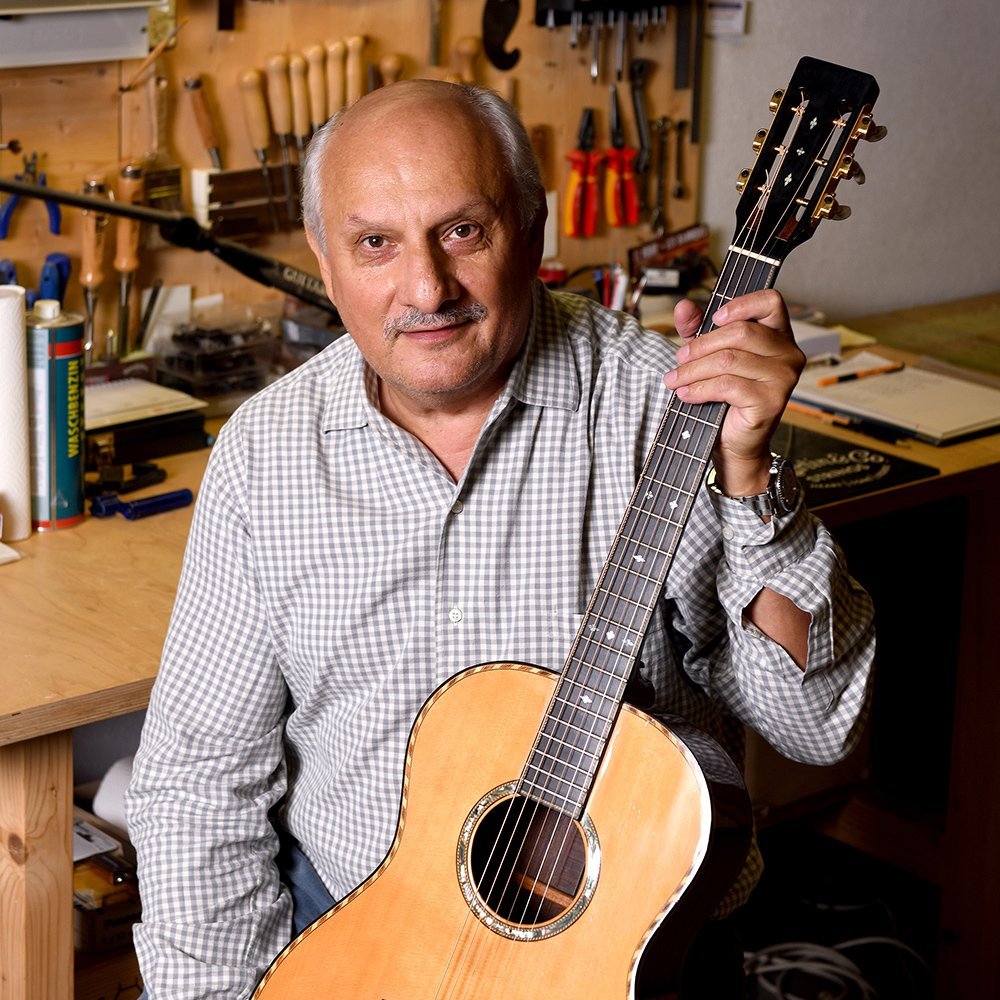 Günther Lutz born 1954 originally majored in American Studies. As of 1979 he was a part of "Folkladen" in Munich as well as his own endeavors in guitar building and repairs. Beginning in 1982 he was involved in the repairs of C.F. Martin guitars. In 1984 Günther founded A.M.I. Wholesale, which by 1998 he was the sole owner thereof. A.M.I. is widely known for its dealings in Martin, Continental and Johnson. 2011 marked the year that the Sigma brand was successfully purchased from C.F. Martin (USA) and the assembly and sales of Sigma had begun once again.
Download Interview PDF (english)
Download Interview PDF (german)
Originally published in AKUSTIK GITARRE 4-2020 | www.akustik-gitarre.com